Banner image courtesy of GoodFor Wholefoods Refillery
This week kicks off Plastic Free July – a worldwide challenge encouraging people to ditch single-use plastic for a day, a week or the whole month. The movement launched in Australia in 2011 and now has more than a million people worldwide taking the Plastic Free July pledge.
Made from oil, plastic products are often used once and then immediately biffed into the landfill or straight into our environment to basically never break down. Every single piece of plastic ever made still exists – its just piling up around our beautiful planet.
It's absolutely absurd when you think about it. Things like water bottles, straws, plastic bags, take-away coffee cups and food containers are amongst the worst culprits.
The world is now buying a million plastic bottles every minute. Most plastic bottles used for soft drinks and water are made from polyethylene terephthalate (Pet), which is highly recyclable. But as their use soars across the globe, efforts to collect and recycle the bottles as well as bags and packaging are failing to keep up.
Fewer than one third of the bottles bought globally are recycled and just 7% of those collected are turned into new bottles. Instead most plastic bottles produced end up in landfill or in the ocean. Drink companies like Coca Cola don't like using recylced plastic because the bottles don't come out perfectly clear. It's also still too expensive to turn recycled plastic back into bottles, the market is more geared towards producing fabrics for carpets and clothes.
The world uses 10 billion plastic bags a week, in the USA over 500 million straws are used daily. Plastic will soon outweigh fish in the ocean (no joke!) and is often being ingested by and killing marine wildlife. A recent NZ based study found that one in three dead turtles on our beaches had ingested plastic. Scientists at Ghent University in Belgium recently calculated people who eat seafood ingest up to 11,000 tiny pieces of plastic every year.
One of the main problems with disposable plastic is that it's cheap. There's a movement in New Zealand at the moment to put pressure on the government to tax plastic bags. When the UK implemented a 10 cent levvie on every plastic bag, the saw a drop in use of bags by 85%!
You can sign up to Plastic Free July for a day, week or entire month yourself - or better yet, ditch the plastic for good. Alternatively, if you're ready to start phasing out even a single part of your plastic waste stream here are a few hero products that might inspire you.
It's in the bag
Invest in a reusable shopper bag that you actually like, you'll be more likely to use it.
Ditch the plastic bottle
It's worth investing in beautiful bottle that you can use over and over again and actually enjoy drinking out of. Our favourite is the BPA free, double walled glass & bamboo, vacuum sealed flask range by Made by Freskko.
Don't be a sucker
CaliWoods makes beautiful reusable straws that are not only nicer to wrap your lips around but won't end up in the ocean after a single use. They are made from food grade stainless steel and look super sexy in your drink or smoothie. Packaging is all plastic free, and anything that they're shipped in is recyclable.
Keep that cup
The main issue with take away coffee cups is that lids tend to be plastic. A reusable coffee cup is such a great investment. It cuts down on plastic in our environment and is way nicer to drink out of than a take away cup.
Make your coffee at home and run, or take the cup into your favourite café when getting take out. Just like the shopping bag, the trick is to remember to have it on you. We love Keep Cups, especially the cork edition made in Portugal from tempered soda lime glass and natural cork band using waste product from wine cork manufacture.
It's a wrap
There's absolutely no need to wrap our food and leftovers in small pieces of flimsy plastic like glad-wrap. Become friends with reusable food storage containers and invest in some reusable food wraps.
Honeywrap make beautiful reusable, eco-friendly food wrap made from 100% organic cotton blended with beeswax, tree resin and jojoba oil (which has natural antibacterial properties). The cloth sticks to itself when wrapped around sandwiches, or can be molded with your warm hands to fit over dishes in the fridge.
Bulk Up
If you've got a bulk bin store in your area grab your groceries from there – we love the plastic free shopping experience that GoodFor Wholefoods Refillery here in Ponsonby has created.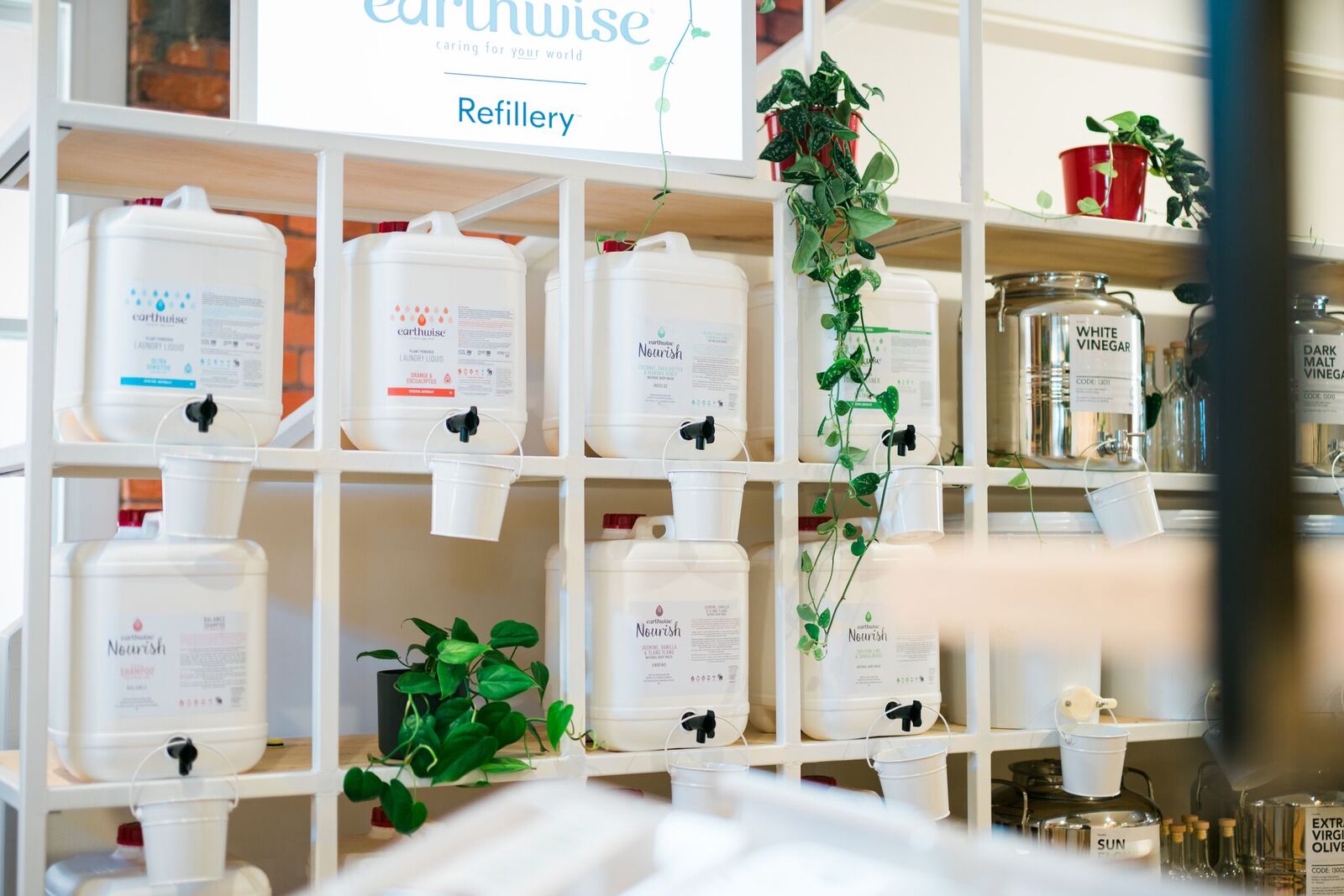 Other things you can do to keep plastic out of the environment:
· You really don't need those flimsy little bags for fruit and veges at the supermarket – just put everything loose in your trolley, it'll add mere seconds to your unpacking when you get home
· Make your own body products like coffee/coconut oil scrub and natural deodorants to cut down on packaging
· Check out our blog on solid body products that don't require plastic packaging
· Order your drinks without a straw: just you know… sip it out of the glass
· Choose wine with natural corks rather than plastic ones (cork is largely a sustainably grown crop and can go in your compost bin)
· If its time to celebrate, avoid balloons. They get blown up once and then go straight to landfill. Don't ever let them just drift off into the sunset – they end up in the ocean eventually. Kids get it!
· Cigarette smokers – those butts are made of plastic! Throwing your ciggies on the ground is the same as throwing them straight into the ocean. Make sure you dispose of them as considerately as you would any other piece of trash
· Look for products wrapped in paper instead of plastic: toilet paper is an easy place to start